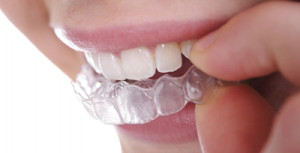 Clear Orthodontic aligners are a substitute to traditional braces that are used to move the teeth and alter your smile without much intervention to your daily routine life.
These are removable trays made of clear plastic which are nearly invisible.
The aligners are computer generated and fabricated by top notch techniques that are based on models and images of our own teeth.
VV dental clinic located in Anna Nagar, Chennai provides high quality dental services at affordable prices. Using braces to position your tooth for better function and appearance have become too old school. Clear aligners are another choice that you may find more appealing.
Clear aligners are computer generated sequential set of plastic trays, worn by patients on after another usually for about 2 weeks per tray. The trays are fabricated using 3D computer modelling of patients mouth, each one slightly different from the last to gradually move teeth to the desired new positions.
They are clearly invisible as they are fabricated from clear polymer material. Unlike braces they may go absolutely unnoticed to a casual observer.
They are removable.  So now you can brush your teeth comfortably without the hindrance of metal braces in your teeth. This can also be removed while eating and for special occasions. But for effective results, aligners should be worn at least 20 to 22 hours a day.
If you would like to consider aligners, remember it demands a bit more self-discipline from the wearer than the braces. Once the treatment is over, they will still need to wear a retainer just as in the case of braces that prevent the teeth from going back to their old position.
If you think you are up to the challenge and their particular situation can be corrected with this innovative technology, then clear aligners will be a great choice.  VV dental clinic in Kilpauk promises to provide the best dental services with the state of the art technology. Our well-equipped and experienced professionals promise to provide you high quality dental services at affordable prices. Contact us for further details.